Filled With The Holy Spirit

Revoltijo de palabras

Word Jumble
Acts 2:1-21

Unscramble each word and then place the numbered letters in the
numbered boxes at the bottom to reveal the "Final Answer."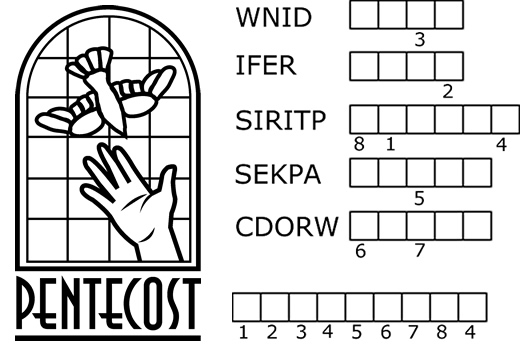 Puzzle Clues
Check your answers by looking them up in the Bible.
(Clues are from the NIV)
1. A sound like the blowing of a violent ______ came from heaven. (Acts 2:2)
2. They saw what seemed to be tongues of ______. (Acts 2:3)
3. All of them were filled with the Holy _______. (Acts 2:4)
4. They began to ______ in other tongues as the Spirit enabled them. (Acts 2:4)
5. Peter stood up and spoke to the ______ of people. (Acts 2:14)
FINAL ANSWER: All of these events took place on the day of _____________. (Acts 2:1)
Copyright © Sermons4Kids
All Rights Reserved

¿Quiere más recursos? Obtenga acceso a todo con Sermons4Kids Basic por $199/year...
Vídeos animados

Vídeos explicativos

Hojas de trabajo para las lecciones

Uso ilimitado para miembros del equipo

Ideas de conversación diaria para las familias

Videos de adoración, mini películas y cuentas regresivas

Herramienta de programación y gestión del plan de clases

Planes de lecciones semanales para preescolar, primaria superior e inferior

Paquetes de lecciones para la escuela dominical basados en temas específicos

Página web con la marca de la iglesia para compartir todos los recursos con los padres y los niños
Haga clic en el botón SÍ, ACTUALIZAR AHORA y desbloquee Sermons4Kids Basic por $199 sin costo adicional hoy. Su suscripción se renovará automáticamente el Jun 9, 2024 por $199/year. Cancele en cualquier momento.