Jesus Raises Lazarus from the Dead

Revoltijo de palabras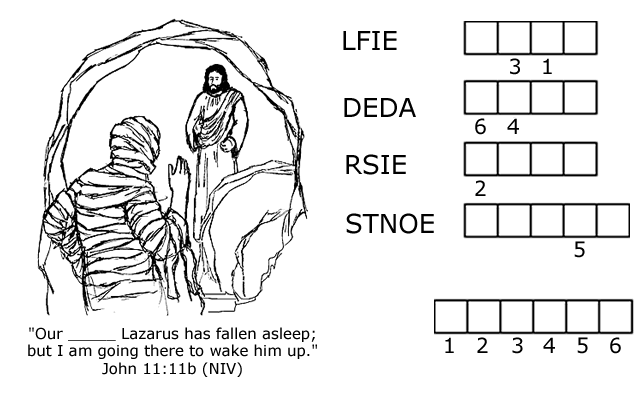 Unscramble each word, then arrange the circled letters to form a word that will complete the statement that Jesus made about himself.
HERE ARE SOME CLUES IN CASE YOU NEED HELP!
Jesus said to Martha, "I am the resurrection and the ______. John 11:25 (NIV)
The opposite of alive.
Jesus said to her, "Your brother will ______ again." John 11:23 (NIV)
The entrance to the tomb was covered by a _________. John 11:38 (NIV)

¿Quiere más recursos? Obtenga acceso a todo con Sermons4Kids Basic por $97/year...
Vídeos animados

Vídeos explicativos

Hojas de trabajo para las lecciones

Planes de lecciones semanales para primaria inferior
Haga clic en el botón SÍ, ACTUALIZAR AHORA y desbloquee Sermons4Kids Basic por $97 sin costo adicional hoy. Su suscripción se renovará automáticamente el Nov 28, 2022 por $97/year. Cancele en cualquier momento.