Precious In His Sight

Revoltijo de palabras

YOU ARE PRECIOUS IN HIS SIGHT
Unscramble each word, then use the marked letters to reveal the secret word.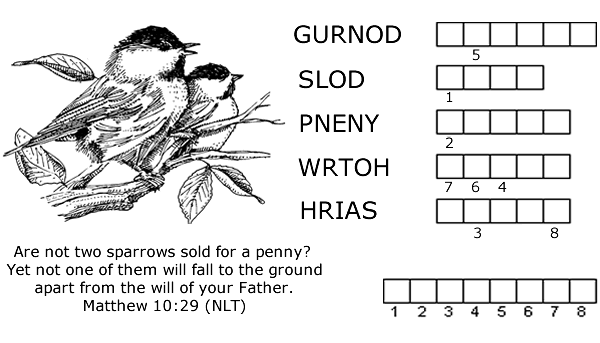 HERE ARE SOME CLUES IN CASE YOU NEED HELP!

1. The surface of a piece of land. I dug a hole in the ________.
2. Exchanged something for money. He _______ his bicycle.
3. A copper coin that is of very little value. Matthew 10:29
4. The importance or value of something or someone.
5. Those things growing on the top of your head.
Copyright © Sermons4Kids, Inc.
All Rights Reserved
Sermons4Kids.com

¿Quiere más recursos? Obtenga acceso a todo con Sermons4Kids Basic por $199/year...
Vídeos animados

Vídeos explicativos

Hojas de trabajo para las lecciones

Uso ilimitado para miembros del equipo

Ideas de conversación diaria para las familias

Videos de adoración, mini películas y cuentas regresivas

Herramienta de programación y gestión del plan de clases

Planes de lecciones semanales para preescolar, primaria superior e inferior

Paquetes de lecciones para la escuela dominical basados en temas específicos

Página web con la marca de la iglesia para compartir todos los recursos con los padres y los niños
Haga clic en el botón SÍ, ACTUALIZAR AHORA y desbloquee Sermons4Kids Basic por $199 sin costo adicional hoy. Su suscripción se renovará automáticamente el Sep 22, 2024 por $199/year. Cancele en cualquier momento.