Filled With The Holy Spirit

Jumble

Word Jumble
Acts 2:1-21

Unscramble each word and then place the numbered letters in the
numbered boxes at the bottom to reveal the "Final Answer."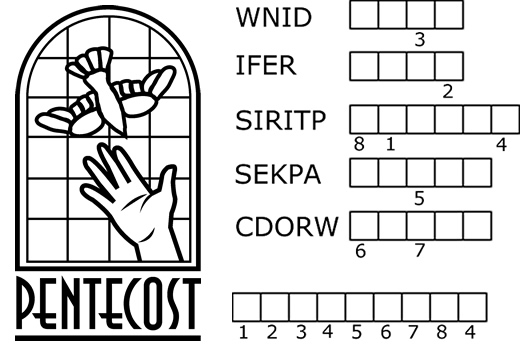 Puzzle Clues
Check your answers by looking them up in the Bible.
(Clues are from the NIV)
1. A sound like the blowing of a violent ______ came from heaven. (Acts 2:2)
2. They saw what seemed to be tongues of ______. (Acts 2:3)
3. All of them were filled with the Holy _______. (Acts 2:4)
4. They began to ______ in other tongues as the Spirit enabled them. (Acts 2:4)
5. Peter stood up and spoke to the ______ of people. (Acts 2:14)
FINAL ANSWER: All of these events took place on the day of _____________. (Acts 2:1)
Copyright © Sermons4Kids
All Rights Reserved

Want more resources? Unlock everything with Sermons4Kids Plus for $249/year...
Mini movies

How-to videos

Worship videos

Animated videos

Lesson handouts

Countdown timers

Unlimited team members

Daily discussion ideas for families

Theme-based Sunday school lesson packs

Weekly lesson plans for lower elementary

Weekly lesson plans for preschool, upper and lower elementary
Click YES, UPGRADE NOW and unlock Sermons4Kids Plus for $249 today. Your subscription will auto renew on Feb 7, 2024 for $249/year. Cancel anytime.