Jesus Raises Lazarus from the Dead

Jumble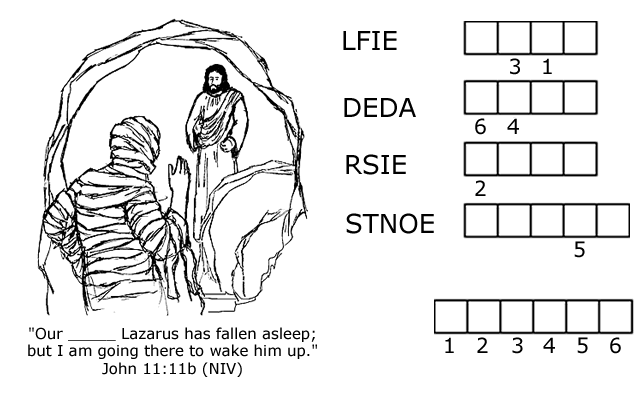 Unscramble each word, then arrange the circled letters to form a word that will complete the statement that Jesus made about himself.
HERE ARE SOME CLUES IN CASE YOU NEED HELP!
Jesus said to Martha, "I am the resurrection and the ______. John 11:25 (NIV)
The opposite of alive.
Jesus said to her, "Your brother will ______ again." John 11:23 (NIV)
The entrance to the tomb was covered by a _________. John 11:38 (NIV)

Want more resources? Unlock everything with Sermons4Kids Basic for $97/year...
How-to videos

Animated videos

Lesson handouts

Weekly lesson plans for lower elementary
Click YES, UPGRADE NOW and unlock Sermons4Kids Basic for $97 today. Your subscription will auto renew on Jan 24, 2023 for $97/year. Cancel anytime.