The Good Shepherd

Jumble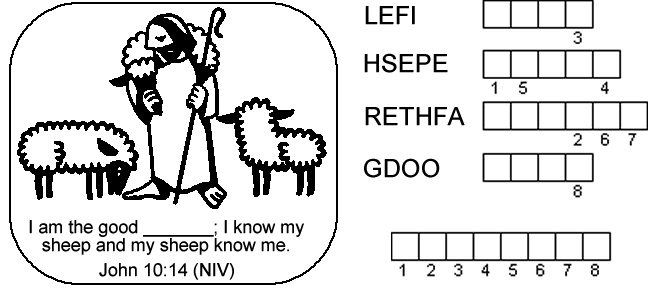 Bible Memory Verse
"I am the good shepherd. The good shepherd lays down his life for the sheep."
John 10:11 (NIV)
CLUES
The opposite of death is _____.
Not a goat, but a _______.
A male parent is a _______.
The opposite of bad is _______.
A person who takes care of sheep is a _________.

Want more resources? Unlock everything with Sermons4Kids Basic for $97/year...
How-to videos

Animated videos

Lesson handouts

Weekly lesson plans for lower elementary
Click YES, UPGRADE NOW and unlock Sermons4Kids Basic for $97 today. Your subscription will auto renew on Nov 28, 2022 for $97/year. Cancel anytime.