Wise Men

Jumble

Wise Men Still Seek Him!
Unscramble each word, then use the marked letters to reveal the secret word.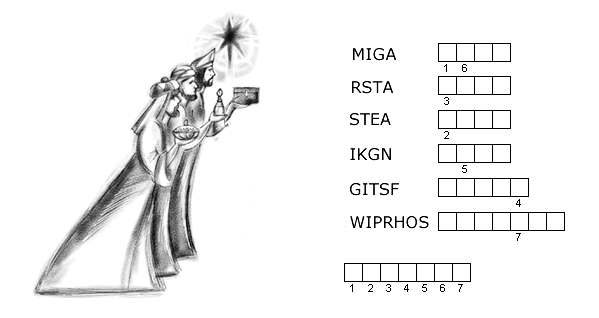 HERE ARE SOME CLUES IN CASE YOU NEED HELP!

1. Another word for the wise men.
2. A twinkling point of light in the night sky.
3. The direction that is opposite of west.
4. The male ruler of a country. Herod, for example.
5. What the wise men brought to the Christ child.
6. Why the wise men wanted to find the new-born king.

Copyright © Sermons4Kids, Inc.
All Rights Reserved
Sermons4Kids.com

Want more resources? Unlock everything with Sermons4Kids Plus for $249/year...
Mini movies

How-to videos

Worship videos

Animated videos

Lesson handouts

Countdown timers

Unlimited team members

Daily discussion ideas for families

Theme-based Sunday school lesson packs

Weekly lesson plans for lower elementary

Weekly lesson plans for preschool, upper and lower elementary
Click YES, UPGRADE NOW and unlock Sermons4Kids Plus for $249 today. Your subscription will auto renew on Dec 6, 2023 for $249/year. Cancel anytime.