Faith for the Journey

Jumble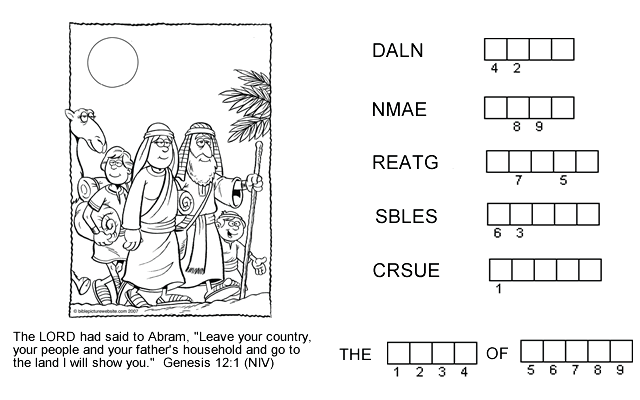 Unscramble each word, then use the marked letters to reveal the secret message.
HERE ARE SOME CLUES IN CASE YOU NEED HELP!
God showed Abram the way to a new _______. Genesis 12:1 (NIV)
You call a person by his or her _______.
God told Abram he would make his name _______. Genesis 12:2 (NIV)
God promised to _______ Abram. Genesis 12:2 (NIV)
To wish something evil to happen to someone. Genesis 12:3 (NIV)

Want more resources? Unlock everything with Sermons4Kids Basic for $97/year...
How-to videos

Animated videos

Lesson handouts

Weekly lesson plans for lower elementary
Click YES, UPGRADE NOW and unlock Sermons4Kids Basic for $97 today. Your subscription will auto renew on Dec 1, 2022 for $97/year. Cancel anytime.