Jesus Performs a Miracle

Jumble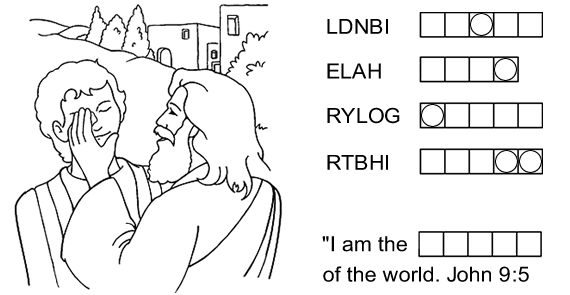 Unscramble each word, then arrange the circled letters to form a wordthat will complete the statement that Jesus made about himself.
HERE ARE SOME CLUES IN CASE YOU NEED HELP!
Jesus and the disciples saw a ________ man beside the road.
Jesus put mud in the man's eyes to ________ him.
Jesus said everything happens to bring __________ to God.
The man had been blind since _________.

Want more resources? Unlock everything with Sermons4Kids Plus for $249/year...
Mini movies

How-to videos

Worship videos

Animated videos

Lesson handouts

Countdown timers

Unlimited team members

Daily discussion ideas for families

Theme-based Sunday school lesson packs

Weekly lesson plans for lower elementary

Weekly lesson plans for preschool, upper and lower elementary
Click YES, UPGRADE NOW and unlock Sermons4Kids Plus for $249 today. Your subscription will auto renew on Sep 25, 2023 for $249/year. Cancel anytime.