The Temptation of Christ

Jumble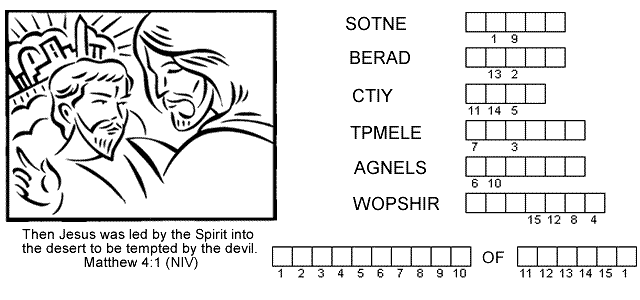 Unscramble each word, then use the marked letters to reveal the secret word.
HERE ARE SOME CLUES IN CASE YOU NEED HELP!
A small rock. Matthew 4:6 (NIV)
Food made from flour and water and baked in loaves. Matthew 4:3 (NIV)
A place that is larger than a town or village. Matthew 4:5 (NIV)
The main place of worship in Jerusalem. Matthew 4:5 (NIV)
Heavenly beings who serve as servants of God. Matthew 4:11 (NIV)
To praise and adore the LORD God. Matthew 4:10(NIV)

Want more resources? Unlock everything with Sermons4Kids Basic for $97/year...
How-to videos

Animated videos

Lesson handouts

Weekly lesson plans for lower elementary
Click YES, UPGRADE NOW and unlock Sermons4Kids Basic for $97 today. Your subscription will auto renew on Oct 18, 2022 for $97/year. Cancel anytime.